We BlockchainHub, in March 2019, renewed our corporate brand and adopted a new logo.
Our new logo came up as a on-the-grid organized chaos of bicolored thick lines. They represent the decentralization of the blockchain technology as well as the transformation after passing by a crossing, that is reference to the "hub". BlockchainHub is a place where people with different backgrounds can meet, learn, work together and add value to each other, a place to provide personal and professional changes.

For the colors, we were inspired by the Japanese traditional colors chart. The corporate color palette is based on shades of konpeki (azure) and beni-murasaki (dark fuchsia). Konpeki brings fresh air to the visuals and refers to blockchain, the technology side of the company. Applied to the hub component, Beni-murasaki (a mix of the Japanese red Beni and Murasaki purple) adds the Japanese traditional values of dignity and nobility, as well as creativity and imagination.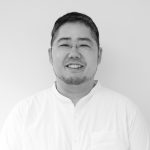 Logo Design by Marcos Sadao Maekawa (DplusM Inc.)